Our Plastic Free Bottle Brush is a great zero waste addition to any kitchen that can help keep everything sparkling clean while minimizing environmental impact.
The sustainably made Plastic Free Bottle Brush will help remove the toughest stains from your water bottles, wine glasses, mason jars, and everything in between. This multipurpose brush has a simple design with antimicrobial coconut husk bristles to deliver precision cleaning of those hard to reach spots without getting your hands into the mess.
Since the Plastic Free Bottle Brush is made of only natural materials and is free of any harmful chemicals, an alternative use for this product can also include cleaning root vegetables or hard fruits.
*The Plastic Free Bottle Brush is safe for all surfaces, however, it may leave small scratches on some on some low-quality plastics

Product Specifications
Brush length: 13 in. long
Bristles head: 1 in diameter
Loved Because…
Great for cleaning hard to reach spots while keeping hands out of the mess
Easily cuts through grease and mold

Antimicrobial properties from the 

coconut husk bristles makes it harder for bacteria to grow

Non scratch

Sustainably made from natural and FSC (Forest Stewardship Council) certified materials

Highly durable
Biodegradable
Free of plastics and harsh chemicals
Material
The Plastic Free Bottle Brush handle is made from FSC certified rubber trees, while the bristles come from sustainably farmed coconut husks. The ribbed stem is made from steel.
Packaging
The Plastic Free Bottle Brush comes packaged in thin recyclable carton cardboard.
Disposal
Brush Head: using pliers, separate the coconut bristles from the head and remove the staples from the base. Coconut bristles can be composted while the staples can be recycled.
Brush Handle: separate the wood handle from the steel ribbed stem. Wood handle can be composted while the the steel ribbed stem can be recycled.
Finally, the thin carton cardboard packaging can also be recycled.
About the Brand
EcoCoconut is a company out of Hong Kong that aims to harness the power of the coconut to speed up the plastic free revolution and become a household name for sustainable and ethically sourced home products. This brand currently provides an alternative to traditional synthetic cleaning tools in the form of natural coconut-based items, therefore empowering everyone around the globe to make better environmentally conscious choices.
All of EcoCoconut's products are sustainably made in Sri Lanka from organic and recycled materials under fair wage and labor conditions. Additionally, this brand's supplier has vast eco-manufacturing experience and was awarded as the best Corporate Citizen for five consecutive years by the Corporate Sustainability Awards in Sri Lanka.
Zero Waste Hero is proud to carry EcoCoconut products and we applaud the brand's global aspirations for reducing waste and enabling consumers with plastic-free alternatives.
FAQ
Care Instructions
The Plastic Free Bottle Brush bristles should be washed with soap and water to remove any remaining dirt particles and then hung to dry.
When to Replace
Replace the Plastic Free Bottle Brush when the brush head changes color or begins to develop a smell.
Privacy Policy

This Privacy Policy describes how rankhighertheme-xclusive.myshopify.com (the "Site" or "we") collects, uses, and discloses your Personal Information when you visit or make a purchase from the Site.

Visit the Privacy Policy for further information.
Shipping Policy

We are not responsible for any customs and taxes applied to your order. All fees imposed during or after shipping are the responsibility of the customer (tariffs, taxes, etc.).

Please read Shipping Policy for more information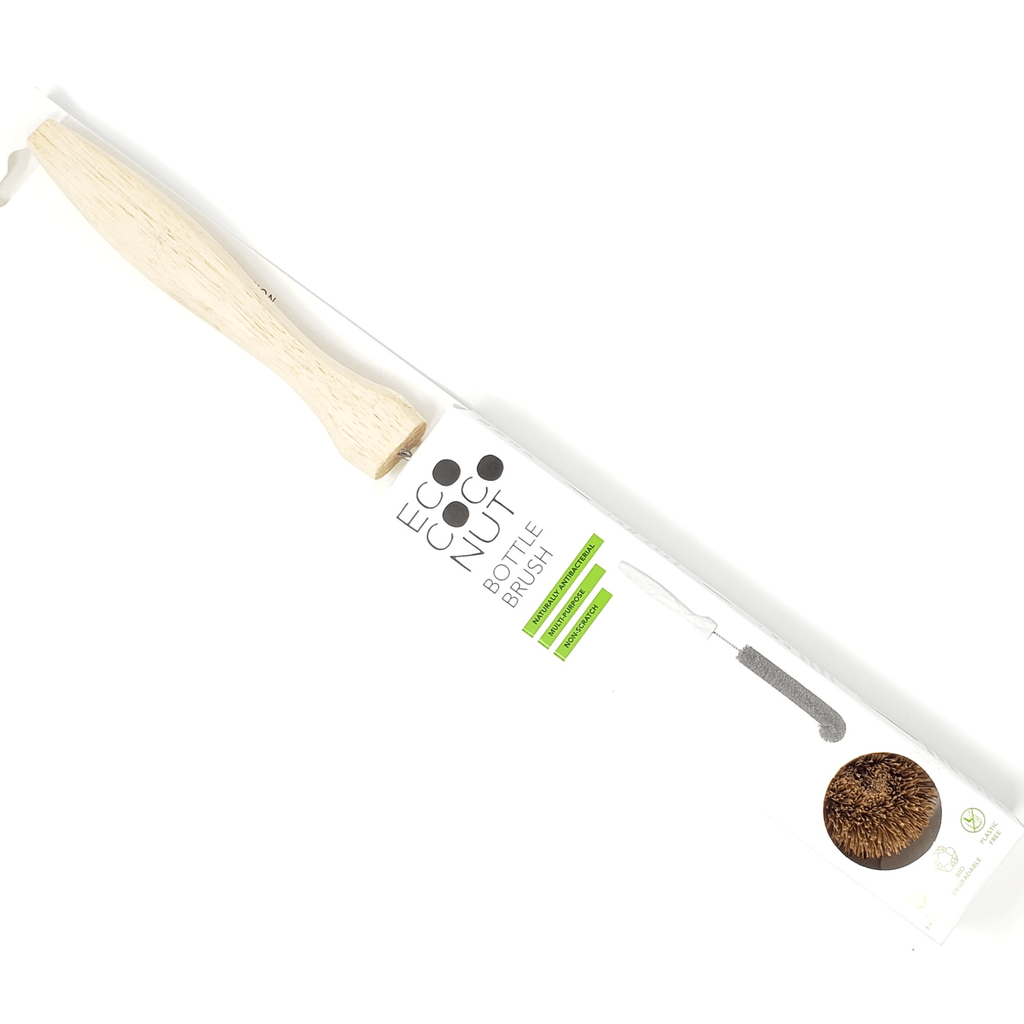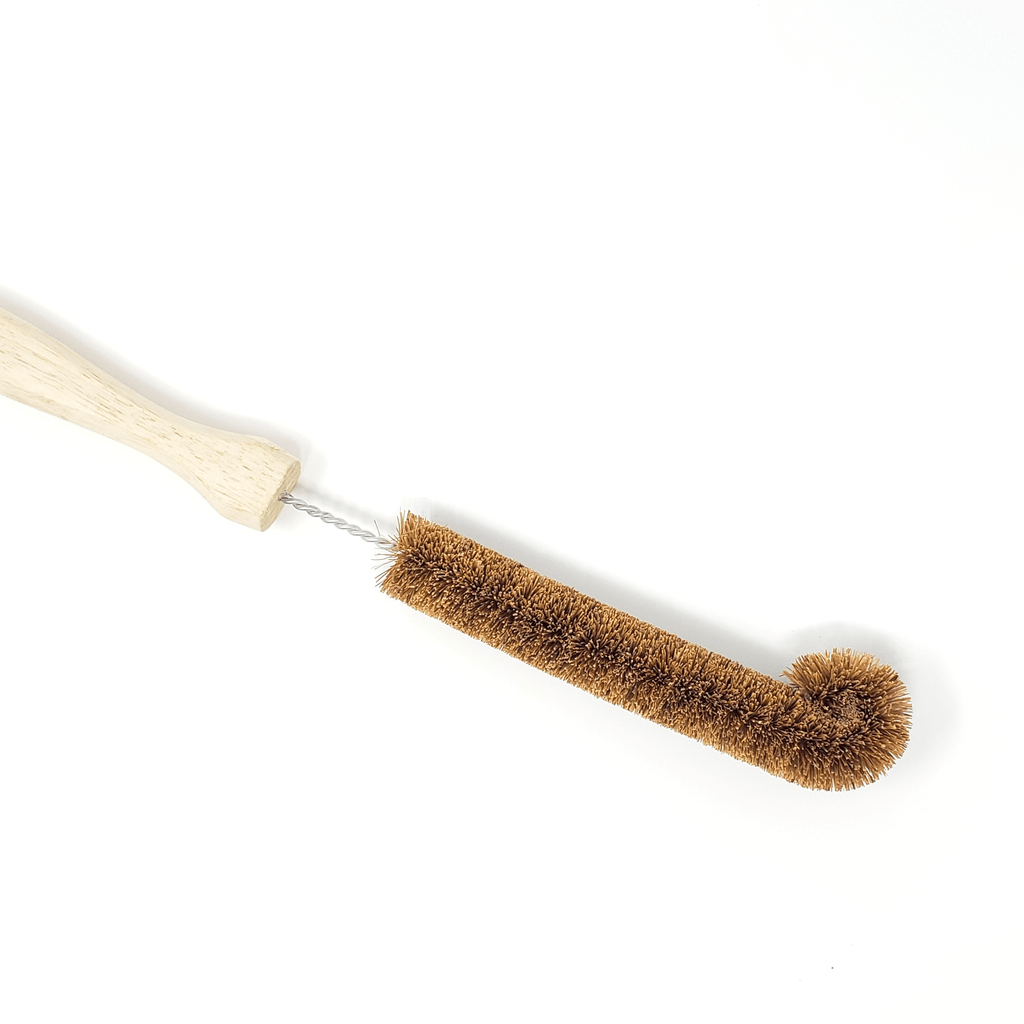 Better than steel wool
I love this brush ! I got tired of buying steel wool that falls apart & gets food stuck in it.
It's pretty durable - I've been using it on my dishes while undergoing a kitchen renovation . It's a nice feeling too to know it's coconut bristles going on your plates & cutlery , items we eat off of.
Definitely will be sticking to these !